Grand Duchy of Westarctica

Character Information

Name

Westarctica

Human Name

Olivia Coleman Jones

Age

12 (The actual age of Westarctica)

Gender

Female

Birthday

November 2nd

Hair Colour

Dull silver-ish blonde

Eye Colour

Blue

Height

Weight

4'10

122lbs.

Creation Date

Late February-March, 2013

Appearances

DeviantART, Wikia
Westarctica, formally the Grand Duchy of Westarctica, is a fan-made character for the series Hetalia: Axis Powers. She represents the Micronation of Westarctica, in Antarctica. Her human name is Olivia Coleman Jones.
THIS OC BELONGS TO INFECTIOUS-ITALIANS FROM DEVIANTART, SO PLEASE DO NOT CLAIM THIS OC AS YOUR OWN!!!!! Thank you.
Attributes
Edit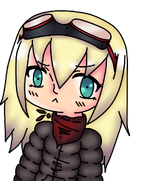 AppearanceEdit
Westarctica is a rather average height, measuring in at 4'10(147cm). She is however a little chubby, due to the fact that Westarctica is located on Antarctica, so she's a little chubby so she can keep warmer, she weighs 122 lbs.
Westarctica has medium length pale silverish/whiteish hair with grown-out bangs. she usually has her hair down, or ties it up in either a ponytail or pigtails. Her eyes are an ice/sea shade of blue.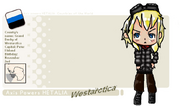 Westarctica is usually always seen wearing a large black winter parka, layered thick brown pants, knee high black winter boots, a red scarf and goggles on her head. This is what she usually wears due to the fact that Antarctica is freezing so she has her large winter parka obviously, so she stays warm and has her layered thick pants. Her winter boots go almost up to her knees and have velcro straps, the bottoms of the boots have very good grip, you can also attach snowshoes to them. She has her red scarf so she can pull it over her face in the event of a storm, and it also represents America, because the Grand Duke of Westarctica is from America. Last but not least, her goggles. Her goggles, like her scarf, are used during the event of a storm but are also Westarctica's favorite headgear, she tries to find a use for them in everything and can come up with some creative ideas.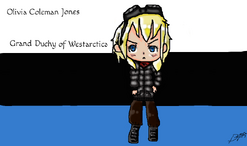 Ad blocker interference detected!
Wikia is a free-to-use site that makes money from advertising. We have a modified experience for viewers using ad blockers

Wikia is not accessible if you've made further modifications. Remove the custom ad blocker rule(s) and the page will load as expected.