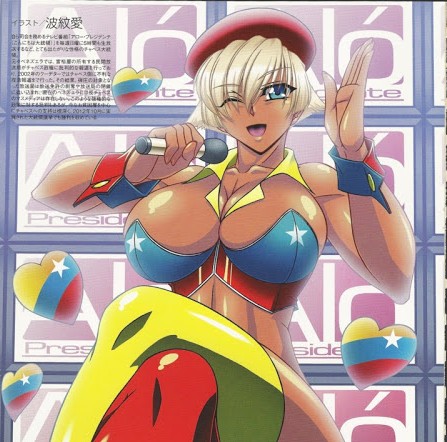 Venezuela

Official name:

Republic Bolivarian of Venezuela

Official language:

Spanish

Actual president:

Hugo Chavez

Best friend:

Cuba

Mortal enemie:

USA

Continent:

America(South)
It's a fanmade character who represented the Republic Bolivarian of Venezuela
Geography
Edit
The country comprises many geologically varied regions. To the west of the Venezuelan Andes Cordillera range. These extend to the north and they transform into the Cordillera de la Costa (Venezuela). South of this mountain range are the Llanos, with many rivers. South of the Orinoco Llanos runs. South of the Orinoco is the region of the Guianas, a shield from the Precambrian era, a portion of which is located in the Black River Basin and indirectly in the Amazon River and elsewhere in the Orinoco basin.
Personality
Edit
Venezuela is a very aggressive country and was recently coup but is very friendly with Singingpower you want, with friends and always sells its oil. 
Your worst enemy is USA even the government declared it an "official enemy)
Friends and Enemies
Edit
Curiosidades
Edit
Their god is the Venezuelan youtuber Dross. 
She do not have toilet paper. 
She strange Commander Chávez. 
EUAball hates but still sells most of its oil
Ad blocker interference detected!
Wikia is a free-to-use site that makes money from advertising. We have a modified experience for viewers using ad blockers

Wikia is not accessible if you've made further modifications. Remove the custom ad blocker rule(s) and the page will load as expected.