- User:Helenna A114 OC -
Goldfeild was a boomtown in Nevada in the 1900's. it was a mining town in central Nevada. 
Goldfield, Nevada, USA

Goldfield Nevada

Human name:

Samantha Lilly Jones

Location:

Central Nevada near the California border. Western US

Languages:

English

Hair:

Blonde

Eyes:

Blue

Hight:

4'10"

Physical age:

17

Population:

286 (as of 2010)
Goldfeild was established in 1902. 
Goldfeild caught fire 2 times, leaving mordorn Goldfeild to house few people.
one of the main sights to see that is left is right on the highway, and it is the Goldfeild hotel. it is currently being renovated.
the Goldfeild hotel had many things happen. there was once a man who found out that his wife had given birth to another mans child. that man dropped the only 6 month old baby at the time down the mineshaft in the basement, and after that locked his wife to a heater. she died there.
there was also a man who was shoved down the elevator shaft. and many other things...
Goldfeild is quite and serious, but she is also depressed from all that has happened to her once great city.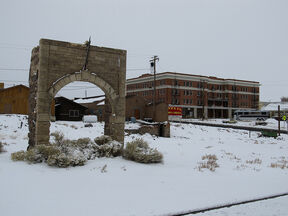 Ad blocker interference detected!
Wikia is a free-to-use site that makes money from advertising. We have a modified experience for viewers using ad blockers

Wikia is not accessible if you've made further modifications. Remove the custom ad blocker rule(s) and the page will load as expected.