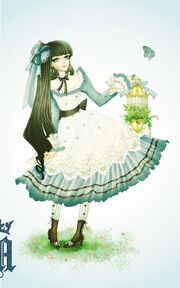 Paige Jones-Kirkland is the 40th child of Alfred and Arthur and the younger twin sister of
North Dakota
. Paige is the 'noticed Dakota' and finds her twin to be a creepy and a stalker, she only likes North when she gives her the things she wants. For some odd reason she finds making a mes around the house amusing and dose so on a regular basis.
Information

Human name

Paige Jones-Kirkland

Birthday

November 2, 1889

Height

5'8

Weight

135lb

Gender

Female

Hair color

Dark Green

Eye Color

Blue

Age

17
Appearance
Edit
Paige enjoys wearing clothes from the 19th century like her twin, but isn't afraid to wear clothes from the 21 century if she sees something she likes. She has failed to notice that she and her sister were the exact same dress but with different colors. The bow she wears was made by her twin sister, after South had given her a similar one as a gift (not knowing it matched her twin's dress; she just picked the creepy colors she thought her sister liked). Since being twins South and North are consistently mistaken for one another which the two find a pain.
Paige's life was lively and chaotic compared to her twins, when she was younger. She spent most of her time picking on her younger siblings mostly Montana, Wyoming, and Utah. And was always in fights with her big brothers Colorado and Nebraska who considered her a pest. Paige was considered criminally insane while in the 6th grade and was expelled; the education board prevented her from attending any school in the U.S. This left her no choice but to other have home school, or attend a school in Canada. Since Paige was such a foul-mouthed, loud, rude, and especially easily distracted by small things, her parents shipped her off to a school in Bermuda for the rest of her middle school years. While there she was on her best possible behaver, so that she could escape the 'hell whole of the world'. Paige's was dorm roommate was a girl named Victoria, who in actuality was Valerie in disguise.
(More coming sooon~)
Ad blocker interference detected!
Wikia is a free-to-use site that makes money from advertising. We have a modified experience for viewers using ad blockers

Wikia is not accessible if you've made further modifications. Remove the custom ad blocker rule(s) and the page will load as expected.