Landskapet Åland

Ahvenanmaan maakunta

Åland Islands


Character Information

Name

Åland Islands

Human Name

Fiske Nylund

Age

15

Gender

Male

Birthday

June 9th

Hair Colour

Blonde

Eye Colour

Blue/violet

Height

Weight

5'1

110lbs.

Creation Date

January-Early February 2013

Appearances

Wikia, DeviantART
Åland, formally The Åland Islands, is a fancharacter for the series Hetalia: Axis Powers. He represents the Åland Islands, in Europe. His human name is Fiske Nylund.
THIS OC BELONGS TO INFECTIOUS-ITALIANS FROM DEVIANTART, SO PLEASE DO NOT CLAIM THIS OC AS YOUR OWN!!!!! Thank you.
Attributes
Edit
Appearance
Edit
Aland is 5'1 and weighs 110lbs. He has blonde hair and violet/blue eyes. He has rather pale skin and pink-ish cheeks. He has two ahoges on the right side of his head.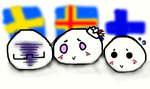 He wears a short-sleeved sailor-like shirt and dark blue pants that are rolled up at the ends. He also wears a long light navy coat that resembles Sweden's. The coat also has a peace symbol on the right side under the pocket. Along with that he also wears a pair of grey rubber boots and a sailor-ish style hat with three ribbons in the colours of red, yellow, and blue.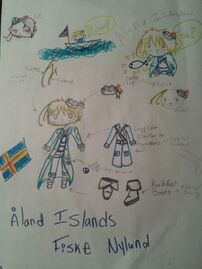 Personality and Interests
Edit
Aland is still rather young so he's very curious,friendly, and naive. He is also quite polite and enjoys to explore. He's kinda socially awkward however due to the fact that he dosent really have connections to countries other than the nordics. Like Finland, he is very sweet, honest, and enjoys helping others. And like Sweden,  he is quite playful(due to the fact that he's young) but is easily embarrassed and shy. He can be serious/strict sometimes, but he is usually always calm and seen with a smile on his face. He is also very peaceful.
His hobbies include fishing, sailing, and art. He very much enjoys helping Sweden do things like building furniture, and cooking(Due to the fact that Alandic culture is very much alike to Swedish culture.) He also likes to make wooden boats and let them sail in water.
Ad blocker interference detected!
Wikia is a free-to-use site that makes money from advertising. We have a modified experience for viewers using ad blockers

Wikia is not accessible if you've made further modifications. Remove the custom ad blocker rule(s) and the page will load as expected.