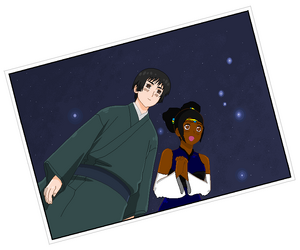 Tanzania is a fan character created for
Hetalia: Axis Powers
and Hetalia: The Beautiful World.

She was given the human name Dalila Kali Kikwete
Appearence
Edit
Personality
Edit
Tanzania is very kind hearted to her friends. On the other hand she is just a tad bit over protective of her friends due to her fear of losing them.
Friends, Family, and respect are very important to Tanzania.
She has a pet lion cub by the name of Mikubwa (Or Miku) who speaks like a pirate.
Songs (Fanmade)
Edit
Hatafutte Parade
In my left hand is a cub, In my right hand is khanga!
Swing a mavazi, move your miguu, it's a dansi parade!
Toward the enchanting world, Karibu!
Take our hands, make a circle, spin, and it's the world.
With marafiki, I'm always at my best.
Nyeusi na njano mistari kugawanya ardhi na bahari.
I have a lot of love to give! He-ta-li-a!
Home is where we can all love each other
In my family, we never leave anyone
Never!
Do you understand?
Ad blocker interference detected!
Wikia is a free-to-use site that makes money from advertising. We have a modified experience for viewers using ad blockers

Wikia is not accessible if you've made further modifications. Remove the custom ad blocker rule(s) and the page will load as expected.