c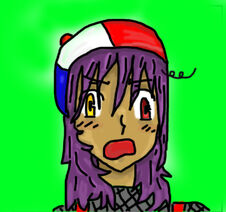 t
THE MAIN THINGS YOU NEED TO KNOW ABOUT HER
South Chile is the sister of Chile she is well known for her extreme easy going-ness and has a love for morrocos and tequila. she has hetrochromia and will never ever take off her hat. she also loves snowboarding.
APPEARANCE
South Chile once again has hetrochromia. one eye is yellow and the other eye is red. a few years back she died her hair purple, she called it a "faze". she has tan skin and her preferred style is punk in a sort of way. sometimes she will be wearing a ski mask probally cause she's always in the snow. she has a tatoo of a rose on the right side of her waist.
RELATIONSHIPS
Her best friends are Bahamas and Costa Rica, in fact she they live together in a apartment. she is related to Prussia by blood so she isntt related to Germany. her aunt is Indonesia though she doesn't know much about her, once again her and her brother, Chile, get along horribly. her mom is Antartica and her dad is Spain. she is also friends with Hungary and Prussia.
Ad blocker interference detected!
Wikia is a free-to-use site that makes money from advertising. We have a modified experience for viewers using ad blockers

Wikia is not accessible if you've made further modifications. Remove the custom ad blocker rule(s) and the page will load as expected.