コロンビア共和国 (Koronbiakyōwakoku)

コロンビア(Koronbia)


República de Colombia (Spanish)

Republic of Colombia


Character Information

Name

Colombia

Human Name

María Ospina López

Age

21

Gender

Female

Birthday

July 20th

Hair Colour

Dark Brown

Eye Colour

Amber Brown

Height

Weight

5"1

122lbs.

Creation Date

April 2013

Appearances

Wikia
República de Colombia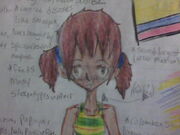 Colombia, formally the Republic of Colombia, is a fancharacter for the series Hetalia: Axis Powers. She represents the Republic of Colombia in South America. Her human name is María Ospina López.
THIS OC BELONGS TO INFECTIOUS-ITALIANS FROM DEVIANTART, SO PLEASE DO NOT CLAIM THIS OC AS YOUR OWN!!!!! Thank you.
Appearance
Edit
Colombia has short dark brown hair with long bangs. She ties her hair in two pigtails with blue ribbons. She has tanned skin and is 5", she weighs 100lbs. Her eyes are an amber-ish brown colour.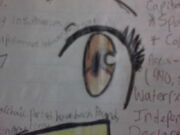 She often wears either her traditional dress, military uniform, or her casual clothes. (a tank top with yellow, red, and blue stripes and shorts with shoes.)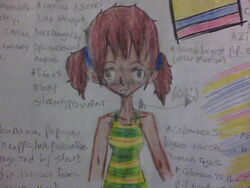 Personality and Interests
Edit
Colombia can be rather carefree, but also very hardworking. She's pretty easy to talk to and rather relaxed most of the time. Though sometimes she may be gloomy, she usually tries her best to make sure she has a smile on her face.
In her free time, Colombia enjoys sailing and playing football. She also enjoys playing baseball, boxing, car racing, BMX, taekwondo, and cycling. (all these are popular sports in Colombia.) Colombia is also rather fond of music and enjoys to dance. She also enjoys cooking and picking fruit, and above all, loves to make coffee.
Some history::
2000BC- Building of El Infiernito menhirs.
1300BC- Chimitá petroglyphs in Santander Department.
1270BC- Zipancón pottery.
700BC- Cave paintings near Inirida river, Vichada department.
Quimbaya civilization formation stage.
300BC- Malagana period.
200BC- San Agustín culture.
100BC- Early Zenú culture.
300- the Chibcha civilization expands from the northern Andes includying part of what is now Panama, the high plains of the Eastern Sierra of Colombia the areas of modern departments of Santander (North and South), Boyacá and Cundinamarca, becoming the most populous zone between the Mayan and Inca Empires.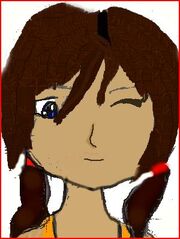 Ad blocker interference detected!
Wikia is a free-to-use site that makes money from advertising. We have a modified experience for viewers using ad blockers

Wikia is not accessible if you've made further modifications. Remove the custom ad blocker rule(s) and the page will load as expected.