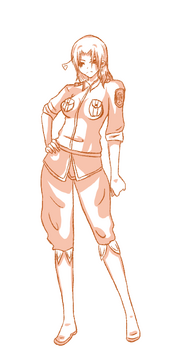 Theresa Aldegund Beilschmidt

Represents:

Die Republik von Alemannen

Age:

36 (Actually 1802)

Gender:

Female

Birthday:

September 24, 216

Skin Color:

Caucasian (Pale)

Hair Color:

Blonde (Although, now platinum blonde)

Eye Color:

Violet

Height:

5'3"

Relations

Ancient Rome (Father Figure), Germania (Father), Holy Roman Empire (Son, Deceased), Prussia (Son), Germany (Son), Switzerland (Son), Liechtenstein (Daughter)
Theresa Beilschmidt is the human representation of the Republic of Alemanni (Or, "Republik von Alemannen".) Theresa has had encounters with many other countries, allied, went to war.. She's unique. She's very strong willed, very persistent. Never goes down without a fight. She has many friends, but also many enemies. Knowing her can be both a good and a bad thing. It just depends on how you see her.
Appearance
Edit
Theresa is a pale skinned woman of Germanic descent. She's shorter than most, standing at only 5'3" tall. Recently having lost a lot of weight due to inactivity and malnourishment, she now only weighs a good 146 lbs.
Section heading
Edit
Write the second section of your page here.
Section heading
Edit
Ad blocker interference detected!
Wikia is a free-to-use site that makes money from advertising. We have a modified experience for viewers using ad blockers

Wikia is not accessible if you've made further modifications. Remove the custom ad blocker rule(s) and the page will load as expected.