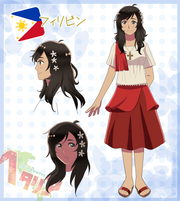 AppearanceEdit
Phillippines is a tanned girl with curled, semi-long, choppy dark hair with side bangs. Her outfit is Fillipino schoolgirl uniform inspried, wearing a knee length red skirt  and a white shirt. She also wears a red sandals, three Sampaguita flowers  on the left side of her hair which is her national flower and a religious necklace representing Philippines main religion.
PersonalityEdit
Philipines is an assertive girl who tries to be always optimistic and cheerful even though she has some very bad luck. She can fight for what she believes in or help her friends. She is kind to other countries and willing to help. She also loves traveling to other countries, singing (especially in Karaoke) and likes basketball, mango, anime, to sail, and to trade.
RelationsEdit
    She isn't always in good relation with Spain because of       what he did to her during his colonization, She sees him more like a father but a bit too overprotective. After being sold, she tries to keep some of his likes. E.g: architecture and the religion.
   Philipines really likes USA because of their mutual help during the pacific war and so, she take him as a brother
   Philipines has some trouble with Japan because of his invasion. But she can get over it, most of the time since lots of Fillipinos bring Japanese culture to their country a lot.