Tuaisceart na Éireann

Norlin Airlan(n) Northern Ireland


Character Information

Name

Northern Ireland(Tuaisceart na Éireann)(Norlin Airlan[n])

Age

17

Human Name

Seamus Kirkland < Aka Potato boy <

Gender

male

Birthday

May 3rd

Hair Colour

Dark red/orange

Eye Colour

Green with bits of blue

Height

Weight

162cm(5'4)

119lbs.

Creation Date

December 2012 / January 2013

Appearances

Wikia, DeviantART

Ireland, formally Northern Ireland, is a fancharacter for the series Hetalia: Axis Powers. He represents Northern Ireland in Europe. His human name is Seamas Kirkland.
THIS OC BELONGS TO INFECTIOUS-ITALIANS FROM DEVIANTART, SO PLEASE DO NOT CLAIM THIS OC AS YOUR OWN!!!!! Thank you.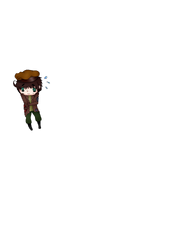 Attributes
Edit
Appearance
Edit
Seamus appears similar to his older siblings, mainly Ireland and Scotland, but in a way also resembles England because of his eyebrows.
He is 5'4"(162cm) tall and weighs 134lbs. He is only one inch shorter that his sister which is something she'll sometimes tease him about, he is also rather skinny too. His hair is a dark red/orange which resemble's Scotland's hair. There have been some sketches with the idea of him having an ahoge either similar to Ireland's, or one that looks like a harp. He shares the same pale freckled skin as his sister and has two scars across his nose. One of his most notable features is his eyebrows, which are like his older brother's.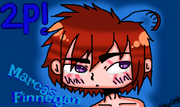 He usually dresses in casual clothing or a military uniform similar to Ireland's and England's.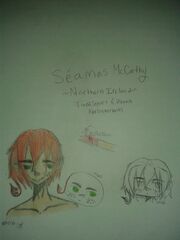 Personality
Edit
His personality traits include..
Cautious, joking/teasing, Naive, Curious, wary, quick-thinking, anti-social/awkward, idesisive, rather artistic, prideful, defensive, shy, laid back, caring, friendly, sincere, witty, desensitized, in way it can seem he has a split personality, reserved, formal, curious, and a SHOTA.
Explanations::
Quick-thinking/witty- A common trait among the Irish.
Anti-social/awkward- Since Northern Ireland dose not really interact with other countries[aside from the British Isles] I find this as rather suiting.
Artistic- If you look it up, there's some pretty famous murals in Northern Ireland.
Desensitized- Because of what he's seen in the troubles, I would feel that he would not react as much to violence.
Formal/reserved- Many people in Northern Ireland keep their emotions to themselves, but open up over time.
Sincere- A trait highly valued in Northern Ireland.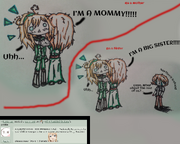 Naive/curious- Hey, he is a pretty young country, so he deserves to have some childish traits.
Indesisve/split personality- Mainly with religion and political divisions, he usually has a hard time choosing sides.
Caring- Probaly towards other countries who have suffered.
Defensive- Some people look down upon Northern Ireland due to his history, so he's protective of his home.
Cheeky wee bastard- people in northern ireland are fucking cheeky as fuck lyk