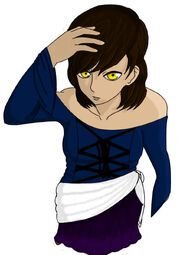 Is the hetalia fan-character who represented the Republica de Nicaragua
Description
Edit
Brothers:Honduras, El Salvador, Costa Rica, Argentina
Father:España
ADH:Medium
Religion:Christian
Continent:Centre America
She has elbow length, curly black hair and bright blue eyes. She is rather muscular due to the fact she works out alot. She wears a short blue dress and brown sandals and has a red hibiscus flower in her hair.
Personality

Edit
Nicuragua is very open and outgoing. She loves meeting new people and is extremely charismatic. She has never been in a proper relationship so she gets nervous when talking to a boy she does not know. She is loving and caring and very energetic. She excersizes often, usually jogging or running on a treadmill.
Allies and Enemies
Edit
Costa Rica
Colombia
U.S.A
Venezuela
Ecuador
Argentina
China
El Salvador
Rusia

Ad blocker interference detected!
Wikia is a free-to-use site that makes money from advertising. We have a modified experience for viewers using ad blockers

Wikia is not accessible if you've made further modifications. Remove the custom ad blocker rule(s) and the page will load as expected.