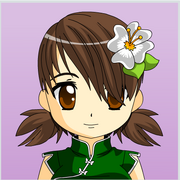 real name: Mona Yuenying
age:18
hobby: singing,reading,cooking
best friends:seychelles,hungary,ukraina
enemies:prussia
crash: turkey
favorite:dumplings
favorite sport:batminton
favorite drink:japaness green tea
the one's who have a crush on her: Greece,poland,romano,italy,south korea,spain,canada,UK 
family:japan,china,hong kong,south korea,taiwan
small bio:she is third older to china and japan she has crash on turkey also she been stalk by her brother south korea. She can see canada and she love to sing japaness songs also she like sitting under cherry blossom tree's when she's drinking tea.
Ad blocker interference detected!
Wikia is a free-to-use site that makes money from advertising. We have a modified experience for viewers using ad blockers

Wikia is not accessible if you've made further modifications. Remove the custom ad blocker rule(s) and the page will load as expected.