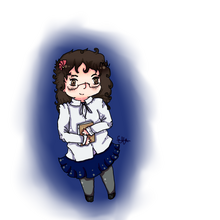 Hay-On-Wye (ヘイオンワイ Heionwai) is a fanmade character for the Hetalia Axis Powers anime and webcomic. She represents the Welsh micronation of Hay-On-Wye where the annual | Hay Festival of Literature and Arts] is held. Her human name is Carys Bevin, Carys being a common Welsh name meaning "love" (for her love of books), and Bevin being a last name meaning "young" (since despite long history, the nation was established in 1977). She is known as the national book town of Wales.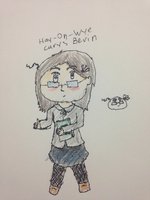 Appearance
Edit
Hay-On-Wye, or Hay for short, has the human age of a seventeen year old. Her looks would often be stereotyped as nerdy. She wears glasses for one, giving of the complete smart impression. Her hair is usually combed, but slightly messy, and a dark, dark brown. She has hazel-like eyes that sometimes appear more brown than green or vice versa. She is approximately 170.18 cm tall, around 67 inches. Her skin is considerably pale and gets sunburned easily. She has a slightly over-sized nose, which is often stuck in a book. She accessorizes with a small fan-shaped clip she made herself in the Hay Festival. Her ahoge is shaped like the Hay river. Her eyebrows are well curved, yet thick, a traditional British Isles trademark. She most often wears a grey button down shirt, jeans skirt, black tights, and leather shoes. She is often portrayed carrying a book.
Personality
Edit
Hay is a mature and responsible nation, who uses her wisdom and counsel to help other micronations. However, she is often picked on for being horrible at loosening up. She is a major bibliophile, who especially enjoys Finding Violet Park and Thursday Next. She poses as a mother figure or older sister figure to lots of different micronations. While she enjoys art, she claims that she "can't draw or sculpt cachu." Her personality is quite flexible, and she seems to enjoy the company of most people. However, she has a pet peeve for anyone who annoys her or rants about her interests.
Ad blocker interference detected!
Wikia is a free-to-use site that makes money from advertising. We have a modified experience for viewers using ad blockers

Wikia is not accessible if you've made further modifications. Remove the custom ad blocker rule(s) and the page will load as expected.