[I'm a big fan of k-pop and Psy so don't ask why i did this.No vandalism beyond this point!!!!!]
Gangnam District (강남구)


Im Jae-sang

Name

Gangnam gu

Human Name

Im Jae-Sang

Age

35

Relatives

South Korea (Relative)
Seoul (Brother)

Eye Color

Black

Skin Color

White

Hair Color

Black

Representation

Gangnam District,Seoul,South Korea
Gangnam District is a fanmade character for Hetalia: Axis Power.He represents the gu of Gangnam in Seoul,South Korea.He particularlly known for his songs "Gangnam Style" and "Gentleman".He is based on real-life singer PSY.
Apperance
Edit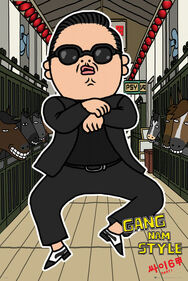 He usually wears coats in different colors,slacks,and bowties.He is also fond of wearing glasses.he has slick back black hair,black eyes and white skin.he is usually a little chubby in his apperance.He looks always smiling or grunting.
You can usually see him doing the famed horse-dance.His catchphrase is "Oppa Gangnam Style".
Personality
Edit
He is personally known for the song "Gangnam Style".While Japan sees this as a joke,Other nations like Italy,usually beg to differ Japans' statement.Seeing him as a very talented person and a very influential place.He is also known for his sense of Humor,often cross-dressing different female singers like Hyorin,Sandara Park,Beyonce and Katy Perry,to make peolpe smile.He is also a sneaky prankster,and is also seeing pulling pranks on other,especially on Japan.He is known for his great sense of fashion,a reference to the Districts lavish lifestyle.
Relationships
Edit
Im Yong Soo [Korea]
Edit
Im yoong soo is the cousin of Gangnam.They also get along with each other.Gangnam tends to act very mature on him,since Korea's personality is very child-like.
Honda Kiku [Japan]
Edit
Because of him thinking that Gangnam Style tends too look like a joke.He starts pulling pranks on him.
His rest of his relationship is unknown,but his widely popular around the world.
He is based on the Gangnam Style Hitmaker Psy
Gangnam is located in the south-eastern part of Seoul.
When Japan says Gangnam Style looks like a joke,it usually refers to the lukewarm reception of Gangnam Style in Japan.
There are memes of Hetalia doing Gangnam Style online.
The idea of Gangnam pulling pranks on others is reference of the music video of Psy new Song "Gentleman".
He adores Ga-In and HyunA.
Gangnam Style has 1,548 million views and Gentleman has 203 millions views (tied with Lady Gaga's Bad Romance and the Russian Comet this year) on youtube,making him more popular.

However,in 2014.Gangnam Style has reached 2 billion views on youtube.
Ad blocker interference detected!
Wikia is a free-to-use site that makes money from advertising. We have a modified experience for viewers using ad blockers

Wikia is not accessible if you've made further modifications. Remove the custom ad blocker rule(s) and the page will load as expected.