Føroyar

Færøerne

Faroe Islands


Character Information

Name

Faroe Islands

Human Name

Ingrið Højgaard

Age

18

Gender

Female

Birthday

April 1st

Hair Colour

Strawberry blonde

Eye Colour

Blue

Height

Weight

5'3

130lbs.

Creation Date

January-Early February 2013

Appearances

Wikia, DevinatART
Faroe, formally The Faroe Islands, is a fancharacter for the series Hetalia: Axis Powers. She represents the Faroe Islands, in Europe. Her human name is Ingrið Højgaard.
THIS OC BELONGS TO INFECTIOUS-ITALIANS FROM DEVIANTART, SO PLEASE DO NOT CLAIM THIS OC AS YOUR OWN!!!!! Thank you. (( WIP ))
Attributes
Edit
Appearance
Edit
Faroe has curly-ish/wavy thick strawberry blonde hair that reaches to about her mid-back, and somewhat resembles a sheeps wool. Her Eyes are a dark aqua-ish green. Her skin is rather light and she has some freckles around her nose and neck.
On both sides of her head she has two ahoges that resemble the horns of a ram. She also has two hair pins, the one on the top is blue, and the one on the bottom is red. This represents how the Faroe Islands were once a Norwegian posession (along with Greenland and Iceland.) after Norway united with Denmark they became Danish posessions. They also in a way represent her flag. (Red and blue are also traditional Faroese colours.)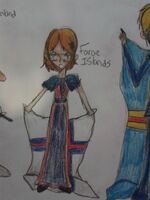 Ad blocker interference detected!
Wikia is a free-to-use site that makes money from advertising. We have a modified experience for viewers using ad blockers

Wikia is not accessible if you've made further modifications. Remove the custom ad blocker rule(s) and the page will load as expected.