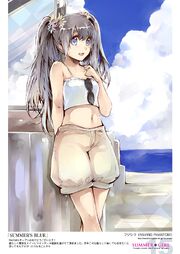 Croatia is a female fan-made character for the anime and manga Axis Powers: Hetalia. She has long brown pigtails, sea blue eyes, and slightly tan skin. She has a somewhat calm personality, but it outspoken and has slightly cynical and evil intentions. She is also around the age of twenty, is 5' 4" and weighs about 100 lbs. In the beginning she was a part of the Axis, but then later begame a part of the Allies. This gets my stamp of horribly written character made by a 13 or 12 year old. 
Ad blocker interference detected!
Wikia is a free-to-use site that makes money from advertising. We have a modified experience for viewers using ad blockers

Wikia is not accessible if you've made further modifications. Remove the custom ad blocker rule(s) and the page will load as expected.