Chile

(チリ)

Official Country Name:

Republic of Chile

Human Name:

Jose Manuel Gonzalez Rodriguez

Gender:

Male

Birthday:

September 18, 1810

Age:

18

Height:

1,65

Hair Color:

Dark Brown

Eye Color:

Dark Brown

Skin Color:

Light-Olive

Spoken Languages:

Spanish, Mapudungun, German
Manuel Gonzalez Rodriguez
is a fanmade character for the anime and manga series Hetalia: Axis Powers and its sequel,
World Series
. He represents the country of
Chile
, formally the Republic of Chile, a country in South Americ
a.
Appearance
Edit
Chile is known for having a very wiry appearance. He is tall and yet quite thin, making him seem almost unreal. He has short, dark hair that resembles Spain's. His eyes are dark brown and his skin is a light-olive color.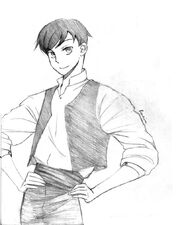 Personality
 Despite being extremely hard-working and notably not having time to party, he hides using that as a cover. He can be very serious sometimes because the long and hard road he suffered to be the one he is nowadays.
He really likes flirting with all kind of women. Some hobbies he has as well are music, poetry, his own mythology, and football.
Relationships
Edit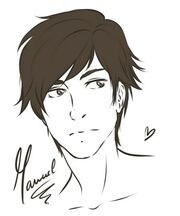 He has a bearable relation with his neighbours, though they're usually asking him for annoying petitions. Chile and Argentina get along pretty well despite some frequent disagreements.
In the past centuries he received a great influence from british and german people. A good example of this is his love for tea and the habit of drink it at a certain time in the day, which he calls "once" (that takes place between 6 and 8 pm).
Ad blocker interference detected!
Wikia is a free-to-use site that makes money from advertising. We have a modified experience for viewers using ad blockers

Wikia is not accessible if you've made further modifications. Remove the custom ad blocker rule(s) and the page will load as expected.