==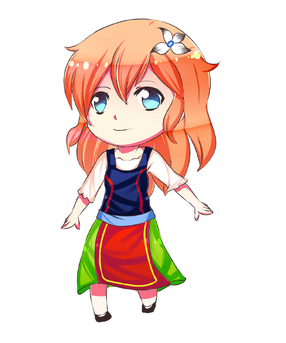 Burgenland== Burgenland(ブルゲンラント州)is a fan-made character in the anime and manga series: Hetalia: Axis Powers. Her received the name Matild Edelstein. Austria's adopted little sister. Her is often called Őrvidék,Felsőőrvidék or Várvidék. The Treaty of Trianon before belonged to the Hungarian Kingdom.
(Burgenland belongs to Mandy-Zim)Edit
AppearanceEdit
Matild's skin is really beautiful. She always cares with it. Her greacian fringe is usually tangled. Two bigger tufts are desisting from her hair. These tufts called 'Horns of the Devil' by Gilbert. Matild's has round face, but it doesn't visible so much. She has long, peach-blow hair, a nice white flower in it. Her eyes are bluish. She usually wears a blue waistcoat with yellow pattern on it. She has a long skirt and a red pinafore dress with a yellow strip. It's the symbol of her Hungarian past.
PersonalityEdit
She is an arty. She likes playing piano. When Austria isn't at home, then Matild sometimes sit to the piano and plays her own compositions. She usually stands up for her truth. She always say to Roderich that she doesn't afraid of Switzerland's gun either. She also loves cooking. She hates cleaning, and she always breaks it off at the middle. She isn't lazy just Roderich's house isn't good for a one-person-cleaning. She argues with Roderich a lot but it hasn't any sense. Matild is usually nice and quiet person. She is proud of Leitha-Banat. Once, she commemorated of Leitha-Banat at Felsőörs, but it had bad end.
Relationships
Edit
Hungary
Before Trianon, she was part of the Kingdom of Hungary. Matild and Erzsébet are feeling good together; however Matild doesn't feel that Erzsébet is her sister. Irrespectively of this thing, Matild thanks a lot to her. Before the Rákosi's communist system she a part a relationship with Hungary but after the end of system this relationship is over.
Ausria
He was Matild's guardian. She's thinking to Roderich as a father. 
Matild usually argue with him about the policy or something, but sometimes they argue about the nothing. 
Usually they are fine with each other.

 
 

At afternoons they always drink a cup of tea and they listen to Switzerland while he plays his gun.

Germany
She doesn't like him. She thinks Ludwig can't relax. 
She was so angry when Ludwig banned using of Hungarian language. 
Matild rarely says to Ludwig, he needs to learn from Gilbert.


Prussia
'So awesome!' - say always to Gilbert. Sometimes they relax together, sadly for Roderich. When Ludwig lived in Roderich's house then Matild said to Ludwig that he is really lucky because he has a great brother.

Switzerland
Matild doesn't afraid from him

. 

She thinks Switzerland doesn't fearsome.

Liechtenstein
She hates her.

Kugelmugel
She likes him. He is cute. Sometimes they are painting together.
Ad blocker interference detected!
Wikia is a free-to-use site that makes money from advertising. We have a modified experience for viewers using ad blockers

Wikia is not accessible if you've made further modifications. Remove the custom ad blocker rule(s) and the page will load as expected.