Brooklyn is a fanmade character belonging to Hetalia: Axis Powers which was created by Hidekaz Himaruya. 
She represents the state of New York and in 2011 was given the name Brooklyn Amanda Jones. 
​Appearence: 
Brooklyn has long chocolate brown hair and emerald green eyes. She is 5'4  and weighs 113 lbs. For her normal everyday outfit is a pinkish purple tank top underneath a mini jean jacket with a black mini-skirt and blue converse high tops. Her Gakuen Hetalia outfit is the standard girl uniform but in purple because of reasons. The outfit Brooklyn is wearing in the picture is her fall outfit. She has a large scar on her back representing 9/11 and a small burn on her arm representing the fire of the Triangle Factory which was in New York. (I WILL FINISH THIS LATER. DO NOT EDIT THIS.)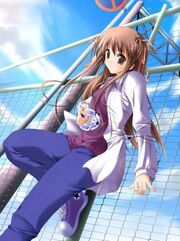 Ad blocker interference detected!
Wikia is a free-to-use site that makes money from advertising. We have a modified experience for viewers using ad blockers

Wikia is not accessible if you've made further modifications. Remove the custom ad blocker rule(s) and the page will load as expected.