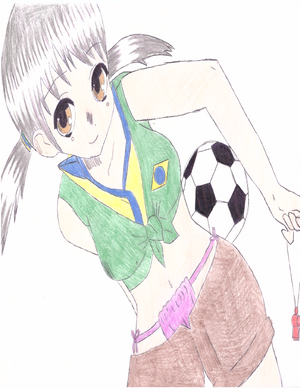 Iasmin Avila Brito is a fan-made character in the anime and manga series: Hetalia: Axis Powers.She represents the southeast of Brazil, and was Born in January 1.Iasmin loves the nature, soccer, volleyball, surfing, "feijoada" and her macaw "Cristal". (> picture was traced but slightly modified)
AppearanceEdit
Iasmin has black hair and smooth, which she holds in pigtails. It is approximately 1.65 m, and has tanned skin. In addition to a body with a bust valued and a big "commission back" feature of Brazilian girls.
Personality and InterestsEdit
Iasmin is the typical exciting girl, extremely hyperactive and that nothing can destroy your mind. She always seeks to evolve faster than other regions of Brazil, in order to be able to be among the most powerful nations of the world.
RelationshipsEdit
João Henrique Lisboa-Carriedo(Portual)Edit
Iasmin was João Henrique colony for 290 years, and after of the declaration of independence from João Henrique their relationship isn't very good.Nowadays Iasmin loves to make jokes abou João Henrique's stupidity.However, they still have a strong historical and cultural bond.Currently, the two share a special relationship, as evidenced by cooperation and coordinated political and diplomatic as well as economic, social, cultural, legal, technical and scientific.In Portugal there is "Casa do Brasil"(House of Brazil), a cultural brazilian center, which is a symbol of Iasmin and João "friendship".
Francis BonnefoyEdit
Iasmin and Francis have a good relationship, Francis was the first country to recognize her independence.
Ad blocker interference detected!
Wikia is a free-to-use site that makes money from advertising. We have a modified experience for viewers using ad blockers

Wikia is not accessible if you've made further modifications. Remove the custom ad blocker rule(s) and the page will load as expected.