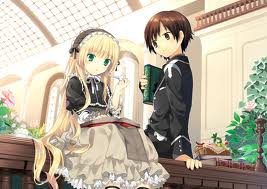 Bosnia-Herzegovina

Bosnia's Human Name

Emir Petrovic

Herzegovina's Human Name

Jelena Petrovic

Bosnia's Hair Color

Brown

Herzegovina's Hair Color

Golden Blonde

Eye colors

Emir's are brown and Jelena's blue-green

Skin tones

Olive

Bosnia's Height

5'9

Herzegovina's Height

5'5
Emir and Jelena Petrovic are fan made characters in Hetalia: World Series. They represent Bosnia-Herzegovina. The image belongs to Konachan.com
Appearance
Edit
Emir has straight brown hair, brown eyes and olive skin. He usually prefers military uniforms or suits.
Personality
Edit
Emir is a busy-body and always finding ways to make his country better. He's a friendly sort and always willing to stop and talk for a few minutes.
Relationships
Edit
Yugoslavia
Edit
Emir is more forgiving than Jelena. He sits next to Yugoslavia at World meetings and they talk from time to time.
Herzegovina
Edit
Emir's wife. He is the more affectionate of the two, greeting her with a kiss on the cheek or a hug. He admires her intelligence greatly and can overlooks her mood changes. They spend little time together now that they are independent but he always comes home with a gift for her.
Emir idolizes Austria. He plays some piano but never has time to play it for fun.
Emir is slightly scared of Hungary. She hit him with her frying pan once and he avoids her in fear of it happening again.
Bosnia and Kosovo are close. They talk on their way to meetings and she is over at his house with Herzegovina almost every other week.
Herzegovina
Edit
Appearance
Edit
Jelena looks about nineteen or twenty and has curly golden blonde hair she wears down her lower back. She has blue eyes, (more green when she was younger), and olive skin. She prefers dresses, like Belarus'. her hair is hald back by a headband.
Personality
Edit
Jelena is a lot like England, in personality. She is really Tsundere and doesn't talk much, prefering to read. She doesn't like arguing unless the person really agitates her. Her mood changes constantly and so she isn't very social, preferring to stay home so she can take her frustrations out on a pillow.
Relationships
Edit
Yugoslavia
Edit
Jelena has little love for Yugoslavia. Since her independence, she keeps away from Yugoslavia, the only contact they keep up is trade.
Jelena's husband. She loves Emir but doesn't show it a lot. They've been friends since childhood, Emir never had a problem with Jelena's Tsundere-ness and constant mood changes, and she doesn't mind him being overly busy all he time.
Jelena likes Austria. When not reading outside, she likes listening to Austria play his music.
Jelena thinks Hungary is too un-ladylike. They talk, but not much other than that.
Although they are cousins, Jelena understands nothing about Vedrana. Vedrana is always trying to reach out to her and getting her to come to World Meetings but Jelena refuses every time.
Ad blocker interference detected!
Wikia is a free-to-use site that makes money from advertising. We have a modified experience for viewers using ad blockers

Wikia is not accessible if you've made further modifications. Remove the custom ad blocker rule(s) and the page will load as expected.