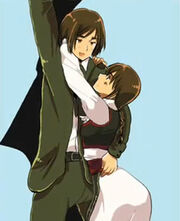 Bosnia & Herzegovina (In Japanese:ボスニア·ヘルツェゴビナ, Bosunia· herutsu~egobina. In Bosnian: Bosna i Hercegovina) or just Bosnia is a fan-made character made by Tix in the anime and manga series: Hetalia: Axis Powers. He represents Bosnia and his wife represents Herzegovina. Bosnia is the brother of Croatia (Yugotalia), Slovenia (Yugotalia), Macedonia (Yugotalia), Vojvodina(Yugotalia), Serbia (Yugotalia) and cousin of Montenegro (Yugotalia). Born in November 25th, he received the name Enis Metikoš. Herzegovina received the name Idriza Metikoš
About Bosnia
Edit
A nation who always went through hard ordeal.
His personality is wacky at times, since he loves to sing and dance even in inconvenient situations, despite his blank face. Too naive, and therefore being made fun of. But the truth is....he is kinda slow and easily lead..
Loves to eat cevapi. His hobbies are watching sports, eating, fishing and swearing. He looks upon Turkey as his big brother and he likes going to Slovenia's house. He doesn't get along at all with his wife Herzegovina since the Yu-house split up, but he stayed in good relations with her cousin Croatia.
It's almost as though he's some sort of a sloppy slacker uncle in the family. Surprisingly enough, he's a great kisser.
Ad blocker interference detected!
Wikia is a free-to-use site that makes money from advertising. We have a modified experience for viewers using ad blockers

Wikia is not accessible if you've made further modifications. Remove the custom ad blocker rule(s) and the page will load as expected.