Auckland IS A FANMADE character owned by me!
Appearance
Edit
Auckland has long curly waist length brown hair. Her eye colour is sea blue like the haurki gulf . Unlike all of the nz city siblings she has the largest chest to represent herbeingg the largest city in New Zealand and all the islands in auckland harbour . Auckland have a fringe. Her name is Anahira that means angel in maori. Her clothes are mixed depends what she's up to but you will see her in a women's nz navy uniform most the time in world and city meetings or navy boat races. She still has a maori cloak from the past maori chiefs. On her lower back she has three scars very small ones though one from ANZAC the castaways in the Auckland islands and one from The nz navy attacks. On her neck she wears a Scorpio and dolphin greenstone necklace from otago her closest sister and best friend ever she's very protective over it same with her paua pearl earrings nz have her . She has a small dolphin maori tattoo on her lower back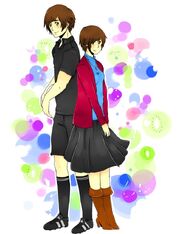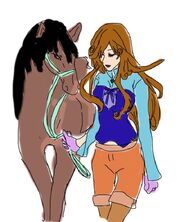 Personality
Edit
Anahira can be very motherly to younger micronations,cities,islands and country's and with her "children" beacuase after all the baby farming and children dying durn the colonstaionn period Spanish flu etc she wants to make it up to the children she saw die. With her "children" the auckland islands Adams island, disappionment Island etc (she treats them like they are her children so some other cites get confused) disappointment island who she named taoroa that means albatross in Maori. She is mild temperered it depends on what you do to annoy her . She can be a smart ass but very artistic from the music,art,cooking and theatre. Her horoscope is Scorpio and for good reason she can get Jealous easily then be very seductive with a punch of mystery. She is Jewish as some of the first merchants and founders of auckland were the Nathan's a strong Jewish family in order to remember the kindness and change they brought with them.
relationships
Edit
Wy: Anahira and wy get on like a house on fire because there cousins. Once every second weekend they have a girls day from art to going for lunch. She often calms down wy when she and her brothers Aussie and hutt river fight. Sometimes when wy can't sleep is angry or in a family drama she walks over to Auckland and new zealands house at any hour to be welcomed with hugs and pavlova.
New Zealand: her big brother New Zealand she likes to trick people that there twins. The two have a very close friendship even though NZ knows aucklands still pissed that shes not capital anymore Again! she shares her House with Nz.
Ad blocker interference detected!
Wikia is a free-to-use site that makes money from advertising. We have a modified experience for viewers using ad blockers

Wikia is not accessible if you've made further modifications. Remove the custom ad blocker rule(s) and the page will load as expected.